CowTrac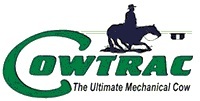 CowTrac™ Mechanical Cow Systems
The ultimate system for training your horse to work a cow, stop straight, improve roll backs and maintain proper position
Why CowTrac™?
Buy with confidence – endorsed by cutting, cowhorse and reining professionals
Over 50% of CowTrac™ customers have purchased other mechanical cows in the past or used one at a friend's or trainer's
CowTrac's™ state-of-the-art technology doesn't require heaters or climate controls systems
Round Pen Setup with any CowTrac™ model
Smooth, quiet operation
All systems (flag or cow) include supercord – stronger than kevlar, doesn't stretch and the cover doesn't dry out like kevlar. Supercord line keeps the flag from bobbing up and down in motion or when it stops.
Selectable stops (hard, medium, soft) standard on all CowTrac™ models
BUMP technology available on all systems – set speeds from remote
Record/play built into Ultima – 4 programs, 500 moves each controlled from remote
With a variety of single and dual speed systems and prices starting at $1025, we have the right system to meet all your training needs
Extremely responsive compact digital remote
Universal mount standard on all models
120/240VAC and battery operation on all models
International power cords included
Lightweight – portable
Upgrade policy – never lose any of your investment – upgrade any time for only the difference in the original cost
Warranty – 2 years including system and remote
Set System Speeds from your Remote with "BUMP" Technology
Now you can set speeds with a touch of a button on your remote.
Bump Technology eliminates getting off your horse, changing the speed dial(s) on the system and remounting. Working with a young horse? BUMP the speed down with the "-" button. Want to speed it up for an experienced horse? BUMP it up with the "+" button. Easily set slow and fast settings across full range.
Ultima systems remember the speeds used when programming.
"We use Bump exclusively to adjust speed settings. We never use the dials".
— Mike Wood
BUMP is available on all systems and can be added to any CowTrac™ system for $150 regardless of age.